Día De los Muertos is a day when we celebrate the wonderful people who have crossed to the other side, not to cry about them. It is a three day celebration in Mexico and it is filled with many parties and events. Well, why not accessorize to get into the Día De los Muertos festivities? It doesn't always have to be expensive, especially if you do it yourself! Here are tips to help you create the perfect Día De los Muertos accessories.
Before you start creating your own accessories, do some research on the colors and common themes in Día De los Muertos. 
Día De los Muertos Colors
When it comes to accessorizing for the perfect events, colors do matter. Whether you wear red for Christmas or green on St. Patricks Day; those are examples of color scheming with a holiday. That is why knowing what colors are important on Día De los Muertos can help as a guide to make your Día De los Muertos accessories! The first color is black. Black is mainly used to accessorize the backgrounds of pictures and altars. Black is used as the foundation to help emphasize the other Día De los Muertos colors. The second color used is purple because it represents pain, suffering, grief and mourning. Pink is symbolic because it signifies celebration and the celebration of life. White is also a good color to consider when it comes to making accessories because it signifies purity and renewal for Día De los Muertos. Red and orange are also commonly used since they signify the sun and light. The last important color to consider when making accessories is red because it signifies blood.
Common Items in Día De los Muertos
There are many common items used when it comes to Día De los Muertos. When making your accessories, remember these items because they can help make your accessories more authentic and traditional. Skulls are everywhere on Día De los Muertos! You'll see skulls in pictures, clay painted skulls, and even skulls on candles. Flowers are also equally important.
Flowers, vibrant colors, and skulls are common Día De los Muertos themes, but it doesn't mean your accessory has to be like everyone else's! Add your own unique personality to these super cute accessories:
Skeleton Hat
A cute accessory you can make is a skeleton hat. Buy any hat with one of the suggested colors and decorate it with handmade skeleton heads. Glue the handmade skeleton heads and glue them on the rim of your hat. You can also accessorize the hat with flowers and feathers!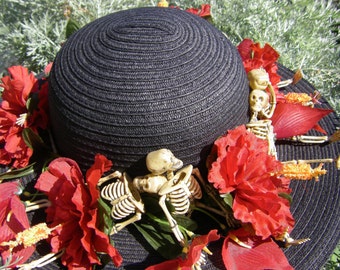 Flower Crown
A simple accessory that you can make, and still be stylish, is a flower crown! During Día De los Muertos you will see colorful flowers everywhere. So, why not bring the flowers with you everywhere by making a crown? You can use fake or real flowers and you can make the crown have one solid color or several different colors!
Día De los Muertos Necklace
Another accessory idea is a Día De los Muertos necklace! You can go to any craft store and buy a necklace chain. Plus, you can create your own charms and hang them on your necklace. Add flowers, charms, or even trinkets your loved one loved.
Have other DIY ideas for Día De los Muertos? Contact editor@latinitasmagazine.org.